Providing end of life care in a compassionate and warm setting is important to the team at Campbellford Memorial Hospital.
Our team is committed to providing patients and their families experiencing this difficult time with understanding in a competent and supportive environment. For example, we now have a Quiet Room for family and friends of loved ones receiving palliative or end of life care at the hospital. The Quiet Room is a place of rest and respite for individuals providing support to loved ones who are dying. It is a private, comfortable space where people can have a "time-out" from respite care to experience their grief and be vulnerable – away from the hustle and noises expected in a busy hospital environment.
Establishing the Quiet Room at Campbellford Memorial Hospital is another example of the best practices the hospital is adopting to ensure local patients and their families received the right care in the right place at the right time. The hospital is partnering with Community Care Access Centre, Trent Hills Family Health Team, Community Care Northumberland, and Bridge Hospice to provide a "wrap around" service to provide the best support for patients who are approaching end of life and their families. For example patients with a palliative diagnosis are assessed daily to make sure they get the right level of care close to home and in the right place.
In 2014, CMH adopted the Palliative and Therapeutic Harmonization (PATH) approach to care for assessing frail, older adults who visit the ER or are admitted to the hospital for treatment. The PATH approach to patient treatment is ultimately about giving patients and their families' time and space to make complex health care decisions that protect their best interests and quality of life.
"The goal of PATH is to help patients and families choose a blend of therapeutic and palliative measures that will best preserve an individual's quality of life in their remaining time," says Kerry Shudall, CMH Clinical Services Manager: "The majority of frail older adults suffer from complex, interacting medical illness. By understanding the full scope of their conditions, care plans are developed providing patients and their families with an understanding of their condition and the opportunity to end their life with dignity."
Thanks to community support and the gifts shared through the Flourish Campaign, Campbellford Memorial Hospital's Palliative Care Program and the team's commitment to compassionate care is just another example of how we are making a difference to patients and their families during difficult life experiences. Consider these words shared in a letter to the team at Campbellford Memorial Hospital from the Freeman Family, who lost their father to cancer in the summer of 2014: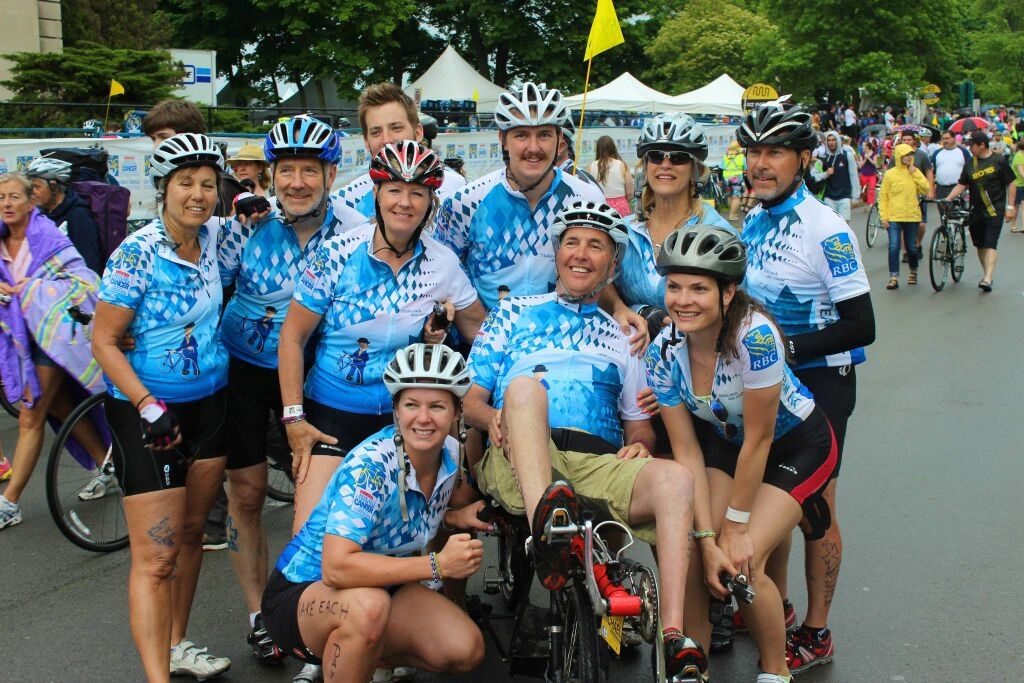 Members of the Freeman Family aka "Team Freeman" at the Ride to Conquer Cancer.
"With all the sincerity a human can offer another, we say that we couldn't have been in a better environment and in more gentle hands than we were at Campbellford Memorial Hospital. The extremely capable nurses and doctors were meticulous in their work to keep our loved one comfortable in these final weeks. What was more impressive was how every member of the staff that our family interacted with somehow knew about our story, offered beautiful words of encouragement, and took great care to make us feel more comfortable during our stay. What we needed was serenity, compassion and competent care, which is what we found at Campbellford Memorial Hospital. For achieving the perfect balance of professionalism and positivity, timeliness and tenderness, smarts and sensitivity, experience and empathy, we hold your staff in the highest regard. We are so grateful to have experienced nursing of this quality and with this degree of attention, and we hope your nurses are proud of the good work they do, because it is truly world class. Our loved one died a beautiful, peaceful death, and we are well on our way to accepting this outcome, largely as a result of the outstanding people we met at Campbellford Memorial Hospital." With sincerity and gratitude Dawn, Britney and Michael Freeman